We're proud to publish an Impact Report annually which share stories from our community members,  facts and figures from the work we do, and our vision moving into the year ahead. Our Impact Report also gives us the opportunity to recognize our incredible staff  and their meaningful work, and to formally acknowledge the volunteers, donors,  and community partners who make our work possible.
2018-2019 Impact Report: Care & Community - 90 Years of Support
The 2018-2019 Impact Report celebrates Dixon Hall's 90th anniversary, exploring our legacy of support in the downtown east through historic photos and agency milestones, alongside current successes, upcoming initiatives, and client stories. Read through the report and experience the consistency of care and community in our work, despite the constant changes we've experienced as an agency and in the city of Toronto.
View the 2018-2019 Impact Report here.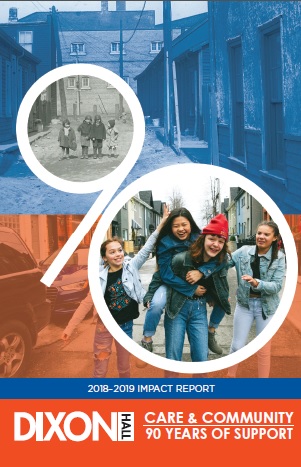 Download the 2018-2019 Impact Report, Care and Community, 90 years of Support in PDF format.