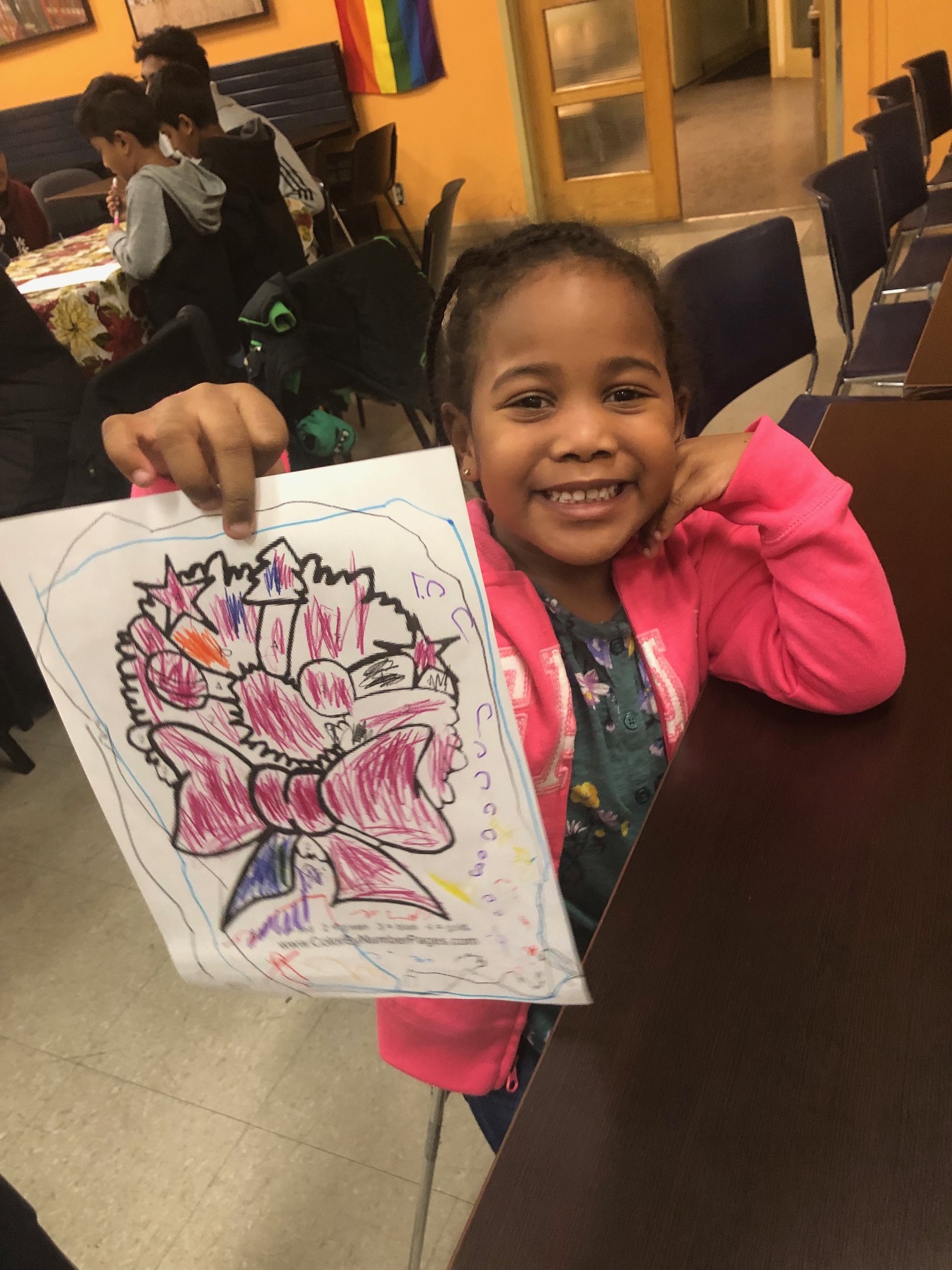 December Recap: How We Ended the Year with Holiday Cheer at Dixon Hall
The holidays are in full swing at Dixon Hall!
Throughout December, our various programs have celebrated the season with clients, ensuring that all community members can enjoy the spirit of the holidays. It's been heartwarming to see the joy when everyone is included and can participate in the festivities. Today we're sharing photos and tidbits from some of our celebrations, and we hope they'll bring you the same warmth and joy.
Year-end is a natural time to reflect and make plans for the year and new decade ahead. Our simple hope for the New Year is to continue to provide the best possible service to our clients and to continue to strengthen and build the capacity of our downtown east communities. We invite you to support our work in 2020 and beyond, whether by purchasing a gift from the Dixon Hall 2019 Holiday Gift Guide, by volunteering or by keeping up-to-date with our work and attending a future event.
Oh What Fun! Our Annual Growing Up Healthy Downtown (GUHD) Christmas Party
The Growing Up Healthy Downtown program's annual Christmas party was a hit again this year! Our party had all of the ingredients for success: a delicious spread of food (we hear the oxtail was amazing), activities for the kids, a sundae bar, and caroling to welcome the special guest of the night: Santa! It was a fantastic way for young families in Regent Park to celebrate the holidays and enjoy each other's company after a year of learning, growing, and sharing.
The End of an Era: The Music School says Goodbye to 58 Sumach
December at our Music School was a month of recitals… and our FINAL lessons at 58 Sumach! After 41 years, the Music School bid farewell to our original studios and community space with a small celebration.  Our farewell was truly special, as it was enthusiastically suggested and supported by our students and their families. There were plenty of home-cooked goodies for everyone to share and enjoy while reminiscing on happy memories at 58 Sumach St.  We are looking forward to the Music School's new chapter in our new youth centre, beginning in early 2020. Stay tuned for another youth centre update in the New Year.
Our Seniors' Christmas Party Featuring BMO Carolers
In early December, all of our Seniors' programs gathered for a large Christmas celebration at our Carlton Campus. Our celebration featured a traditional turkey dinner, a visit from good old Saint Nick, dancing, and live carolers! Thanks to United Way Greater Toronto, a group of corporate volunteers from BMO delighted our guests with their cheerful caroling of classic Christmas songs. Their beautiful voices and instruments elevated the spirit in the room. BMO's carolers have performed for us two consecutive years now, and we hope to see them in 2020 and beyond.
A Polish-Inspired Community Dinner
Our Community Meal programs hosted two special meals in advance of the holidays – a Polish-inspired dinner on Tuesday; with traditional favourites like cabbage rolls and borscht, and a hearty breakfast on Friday; with classic breakfast favourites as well as more decadent flavours like apple-glazed back bacon roast. Special thank you to our corporate volunteers from Dream, who helped prep and serve our delicious dinner on Tuesday.
In the new year, we're excited to invite participants in our Community Meal programs to a special event at the new Toronto restaurant Meat & Pie Co. Meat and Pie Co. have graciously invited participants in our Community Meal programs for a complimentary meal in advance of their grand opening so they can enjoy a savoury night out.
The Rooming House Project: Establishing Traditions with Our Second Annual Christmas Party
The Rooming House Project hosted its second annual Christmas Party! It's been a busy season for the project, with tenants completing a community clean-up in November, and embarking on an exciting new partnership with Be One to Give, a local organization that donates unsold food from retailers. Now heading into year two of the project, the party was a great opportunity to extend the spirit of the season to precariously-housed community members.
1832 Asset Management Helps Provide the Homeless Community with Everyday Essentials
For the third year in a row, corporate volunteers 1832 Asset Management spent some time with us this season creating hygiene kits, which we distribute to residents in our shelters, guests at respite sites and Out of the Cold sites, and more. The hygiene kits give community members in need access to essentials like socks, soap, shampoo, conditioner, and toothbrushes and toothpaste. We're very grateful for the support of 1832 Asset Management. Not only did they assemble over 1,000 kits, they also contributed over $15,000 to cover all costs and support the community.
Decking the Halls at Schoolhouse Shelter
This wonderful crew from Team Dixon Hall made it a Christmas to remember for residents at our men's shelter Schoolhouse. Together, they decked the halls to brighten the space and celebrate the holiday with a special shared meal. Additionally, they put together gift bags for residents to receive on Christmas morning.