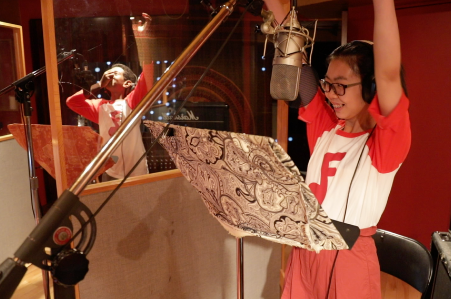 Esther's Story
As we enter into year two of online lessons at Dixon Hall Music School, we asked one of our students, Esther, why she likes being a part of our community. Here's what she had to say:
My name is Esther, I am 15 years old, and I am a Dixon Hall Music School student. I have been learning at the Music School for over eight years. Currently, I am taking piano and classical guitar lessons, and am a part of the senior choir.
When I moved to Canada, I was only six years old. It was hard for me to make friends because of the language barrier.  I was thrilled when my mom signed me up for piano and choir lessons. I loved learning and singing songs with the other children, making friends, all while improving my English. At the beginning of each piano lesson, we would start by taking a few minutes to chat, and I would tell my teacher about my day. She was extremely patient with me even though my English was not very good. At the end of the lesson, she let me choose a sticker to put on my dictation book. That was my favourite part of the class!
I am very grateful for my teachers, and I feel fortunate to have been taught by them. As an immigrant family, my mom and I are incredibly thankful that Dixon Hall offers low cost music lessons, so my mom was able to afford them. Through the school, I have performed at many different events and gained valuable music experience.             
Before the pandemic, a big part of my time at Dixon Hall revolved around going to see different stage performances. Through the school, I've seen ballet performances, operas, and musicals. I get so excited each time I sit in the audience; while lights around the room dim, the orchestra starts playing, and the curtains rise. Dixon Hall offers it all; opportunities to see classical performances and popular musicals; attend summer and March Break camps; and perform in a multitude of shows year-round.  And when there's no COVID-19, overnight music camp is always the highlight of my summer. At the camp, teachers and students have the chance to get to know each other better. At times, it feels as if we are a big family. I think this feeling of community is my favourite part of Dixon Hall. 
Right now, COVID-19 is keeping everyone from face-to-face interactions, but a lot of things are still happening. My lessons have moved online, and recitals have moved to virtual Zoom meetings. The recitals still feel very formal, and I still get the pre-recital jitters and sweaty hands. Taking all my lessons and recitals online is very different from traditional in-person learning. Before each lesson, I have to clean my messy room, sometimes my internet cuts out in the middle of a lesson, and at times, it can be hard to communicate with my teachers. I know my teachers probably have had a hard time adjusting to this new teaching method too, but I can feel that all the Dixon Hall staff are trying their best to keep things interesting for the students. They have created group chats on Instagram for the students, where we chat and play online games together; students get emails every time there is news from the music school. So even though everyone is physically separated, it still feels like we are together.
Dixon Hall has meant so much to my mom and I. We've received so much support and have had the chance to meet so many amazing people, thanks to the opportunities made possible by the wonderful donors who support our Music School. Being a part of the Music School has taught me so much about music and life.
We wanted you to hear from Esther for yourself. No one knows better than our students just how vital Dixon Hall Music School is to them.
And, right now, if you support the school, the impact of your dollars can go twice as far. The Slaight Family Foundation has generously donated $25,000 to help kick-start our Music is Life campaign. If we can raise an additional $50,000 from our donors, the Foundation will contribute another $25,000. Please consider giving generously to give students like Esther a chance to be creative, wonder, work, and know they have the support of a community.