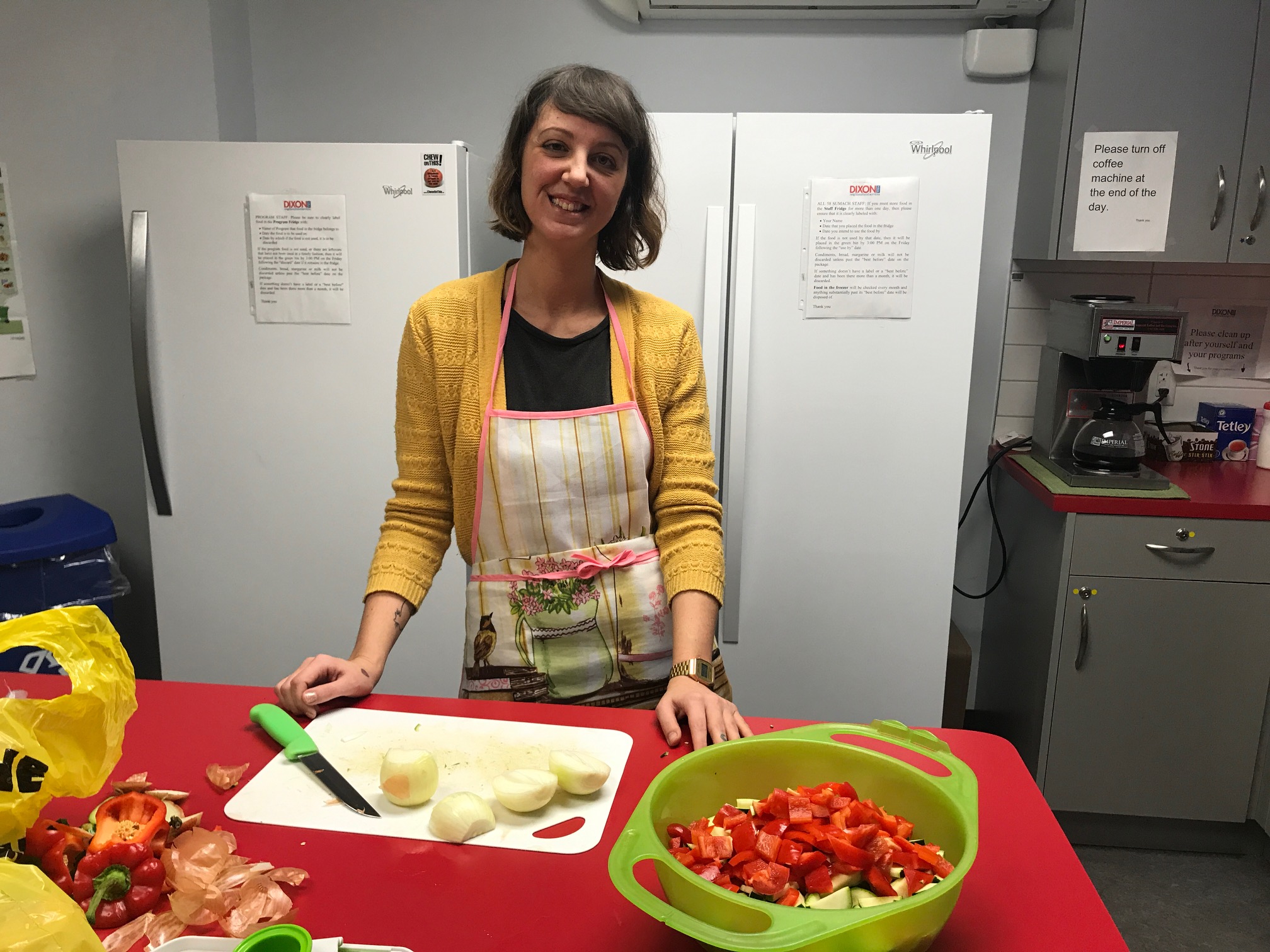 Food at Dixon Hall: The Connecting Thread
Food is fundamental to the work we do every day at Dixon Hall. As a multi-service agency serving nearly 10,000 Torontonians each year, our program offerings are varied. But food is a constant and a common thread in all our areas of work. From our early days as a soup kitchen and throughout our 90 year history,  we've remained firm believers in the importance of a good meal. Today, we recognize, celebrate, and build programming around the power of food. Through food, we can stabilize, connect, and create opportunity for the community members we serve.
Food means Stability
We serve some of our society's most vulnerable members. We work with men and women experiencing homelessness, with frail seniors who may lack support networks, and with low-income families. When we work with vulnerable populations, our initial focus is on creating stability. One of the most effective ways to help stabilize our clients during challenging situations is by ensuring they have access to nourishing food.
Whether this takes the form of a meal offered to a first-time resident at our homeless shelters, or a delivery to a new Meals on Wheels client, food is an important first step in increasing stability. Once community members are stabilized through nourishment, we can work with them to determine next steps.
Food means Connection
We all need connection to thrive. For many of the people we work with, finding and maintaining social connection can be challenging. At Dixon Hall, we provide welcoming spaces where our clients can create new relationships and increase personal networks. One way we encourage friendship and familiarity with neighbours is through food programs. We host congregate meal programs, where guests gather to eat, which often leads to sharing experiences and the beginning of new friendships.
One of the programs where we see food create a foundation for building new friendships is Girl Fit Club. Each week, young women in Regent Park gather for a fitness program, followed by a healthy meal that they prepare and enjoy together. During the meal, the girls are guided by our Youth Workers through a conversation around challenges they're facing or an issue they're struggling with. Sharing experiences and perspectives around topics like healthy relationships, self-esteem, and proper nutrition creates important bonds and strengthens peer support networks during a transitional time for girls.
Food means Opportunity
The health and social benefits of food last far beyond meal-time and can often result in growth opportunities. Our food programs and shared dining experiences give community members a space to provide feedback, and get more involved in the agency and community.
Our food programs support the creation of job and volunteer opportunities. For instance, in one of our newest initiatives in Housing Services, the Rooming House Project, shared meals were the starting point for new tenant-led projects. A food bank for tenants of the rooming houses is now being managed by one of the tenants, Bill. He's enjoyed reaching out to local businesses and managing the food bank so much that he pursued his Food Handler Certificate through our Employment Services department, and is actively suggesting ideas for new events, including a volunteer appreciation dinner. Food has helped him realize his potential and find purpose.
In every area of our work, food plays a crucial role. The programs we've highlighted are a small snapshot of the ways in which food serves as a central focus as we work to build better outcomes for our clients. Our agency's legacy is founded on the importance of a good meal, and that initial focus remains deeply woven into the fabric of our work today.