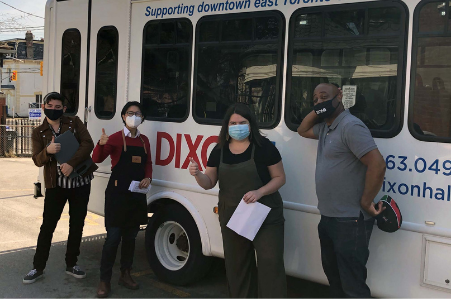 March for Meals – Community Champions Week
Celebrating Meals on Wheels at Dixon Hall
The 2021 March for Meals' Community Champions Week will be celebrated from Monday, March 22 to Friday, March 26. During this time, Ontario Meals on Wheels programs will welcome prominent community members to help support the program and give a voice to seniors and people with disabilities; to help raise awareness for their needs; and to share the power and importance of Meals on Wheels.
This week, Dixon Hall is thrilled to welcome MPP Suze Morrison and Councillor Kristyn Wong-Tam, as they donate their time to help deliver meals to Meals on Wheels clients in the neighbourhood. Their support is even more appreciated at this time, as we grapple with a dramatic increase in demand for Meals on Wheels, alongside a significant volunteer shortage as a result of the pandemic. With just a skeleton crew of staff and volunteers, Dixon Hall saw 73,000 meals delivered from March 2020-March 2021, a 30% increase since last year.
Dixon Hall's Meals on Wheels program provides a variety of nutritious food options that are delivered to clients' homes by friendly, caring volunteers. We accommodate a number of special diets, and offer a variety of different meal options at affordable prices for low-income seniors and individuals with disabilities.
One client described the benefit of the program: "Without the Meals on Wheels service during the pandemic, I'm not sure how I would eat daily to be honest. Going to grocery stores has to be very limited for me because I have a very low immune system, which makes me high risk of being affected by COVID-19.  The volunteers are always wearing the masks and gloves properly which makes feel very at ease."
Since the start of the pandemic we have had strict COVID-19 safety protocols in place and are actively seeking drivers and runners to help deliver meals to our homebound seniors' community. To become a volunteer, visit our Volunteer Page. To make a financial contribution to MOW, click here.
__
Dixon Hall is a multi-service agency located in the heart of downtown East Toronto. We began providing food and support services in 1929, and have continuously worked to build a city where everyone thrives. We have evolved as an organization to meet the needs and demands of our community through a wide range of integrated programs and services. Dixon Hall serves around 10,000 people annually, impacting the lives of the most vulnerable and the most at-risk members of our community. We offer more than 60 programs and services and focus primarily on housing and homelessness, seniors services, employment services, and supports for young people through general programming and music education.
If you'd like more information about this event or Dixon Halls' MOW program, please contact Lauren Thiboutot, Communications Manager, Dixon Hall, at lauren.thiboutot@dixonhall.org.