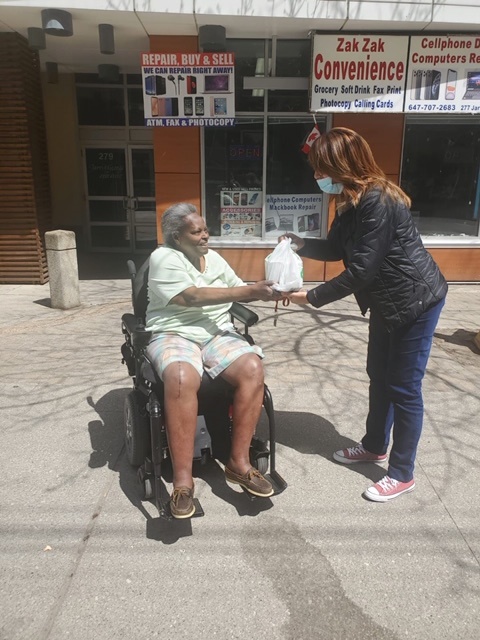 Neighbours Helping Neighbours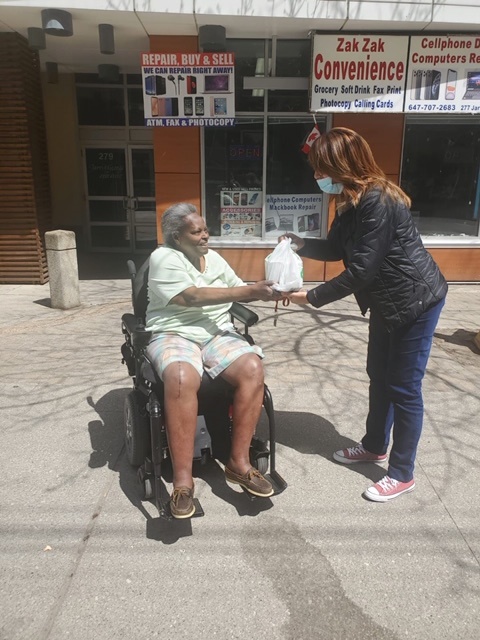 The COVID-19 pandemic has had an enormous impact on Dixon Hall and the many community agencies we work with in the city. No one could have imagined the health crises, the economic turmoil, the stress placed on systems across the city and beyond. And, yet, through this dark time, moments of light and warmth have shone through. Here at Dixon Hall, we have seen extraordinary acts of generosity and kindness from our donors, colleagues, volunteers, and community members. We wanted to take a moment to celebrate some of the wonderful moments of generosity and kindness we've seen over the past few months.
The community stepped up when we announced the cancellation of our Dixonlicious fundraiser and the gap this left in funding for our food programs. Donors made it clear that those experiencing food insecurity would not go hungry on their watch.
In addition, so many local businesses − despite dealing with their own struggles right now − have offered their support. The Goods, Care for a Cause, The Mugshot Tavern, Maker Pizza, Little India Restaurant and the Silver Hotel Group are just some of those who have donated meals from their kitchens. Loblaws donated more than 400lbs of food, which was distributed to the Sherbourne United Food Bank, Dixon Hall, as well as other community food programs. Other restaurants, such as The Aviary, are offering their customers a chance to purchase a meal for Dixon Hall as part of their online ordering. We received deliveries of delicious Mengrai Thai, thanks to support and hand deliveries from River and Fifth and Councillor Wong Tam. Meals have also been arriving via local Leslieville businesses who answered the call put out by BSIDE Beauty and Just B Salon: http://charityauction.bid/leslievilledonates.
Local residents, including those from the Aberdeen Residents' Association, have been helping by making sandwiches for the Rooming House Project – we've even had local chefs volunteer in our kitchens. Pfaff Automotive Partners donated their vehicles to deliver meals during the week and weekends, and CAA delivered food to our clients and community members free of charge.
The Slaight Family Foundation have offered to help provide meals for Dixon Hall Music School families, and a grant we received from Community Food Centres Canada allowed us to give out $66,650 in Loblaws gift cards to clients and community members.
"Everyone is facing new challenges due to COVID-19, and yet people have gone above and beyond to help us continue to provide our programs. We could not have made it through the last few months without neighbours reaching out to lend a hand, and we are truly grateful," says Laura Stenberg, Dixon Hall's Director, Philanthropy and Communications.
The Meals on Wheels program, which many seniors rely upon, along with others who are unable to leave their homes, quickly pivoted to remain operational. It shifted how deliveries were managed and moved from in-home wellness checks to phone checks, as did other Dixon Hall seniors' programs. We also saw volunteers step up to make sure no one in the program would be left behind. Many of our volunteer drivers increased their weekly shifts and some volunteers, like Clifford, have found ways to provide a needed, yet safe, social interaction with those on his route.
"During COVID-19, Clifford has been coming out daily to do his walking route. He provides the Meals on Wheels Supervisor with a daily report on how the clients are doing and makes sure they are getting the support they need," says Caryn Yuz, Manager, Community Programs, for Dixon Hall. "Clifford does more than deliver a meal. He provides social contact and interaction to our seniors, which is more important than ever during COVID-19. Clifford's dedication to the program is something to be admired!"
Others have donated supplies, like the personal care kits from 1832 Asset Management LP, which were provided to clients in our Rooming House Project. And many kind neighbours and volunteers, including Sun Life staff, who regularly deliver Meals on Wheels, and folks from The Sewing Army, delivered homemade masks for our frontline staff.
Throughout the community, Dixon Hall has aligned with our colleagues at other support services to ensure we can all continue to provide essential services safely to our clients. Working with local food banks, housing organizations, and community services, we are truly able to be stronger together. Emergency support from the United Way's Local Love Fund gave a boost to families supported by our Children and Youth department. And a wonderfully kind supporter, the Azrieli Foundation, enabled free virtual lessons for all students in our Music School.
This list doesn't quite capture everyone who has stepped up at this time; however, we wanted to try to celebrate the power of people coming together. Thank you so very much.
Would you like to support Dixon Hall's programming? Learn about opportunities to donate or volunteer.