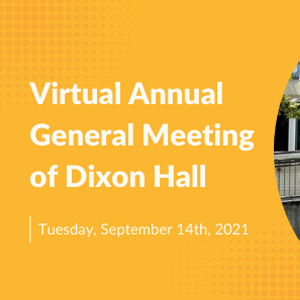 Notice of the Annual General Meeting of Dixon Hall
Tuesday September 14th, 2021
Notice is hereby given that the upcoming Annual General Meeting of the members of Dixon Hall will be held by way of electronic means on Tuesday September 14th, 2021 at 5:00pm – 6:00pm EST to conduct the essential business of the agency.
To receive the Audited Financial Statements of Dixon Hall for the fiscal year ended March 31, 2021 together with the report of the Auditors.
To present the reports of the Chair, the Treasurer and the Chief Executive Officer on behalf of the Board.
To transact such further or other business as may properly come before the meeting.
DATED at Toronto, Ontario the 12th day of August, 2021
By order of the Board
Thompson Egbo-Egbo
Secretary
Meeting agenda, Draft minutes of the 2020 Annual General Meeting and other relevant items (audited statements, annual reports, by-law changes, etc.) will be made available by request to info@dixonhall.org.
Please Note: Dixon Hall By-Laws Article 3.1: The Board will set the Corporation's membership fees and any classes of membership from time to time. Memberships will be sold throughout the year, however, only those who have become a Member at least thirty-one days prior to a Members' meeting may vote at such meeting.
If you have renewed your membership for 2021, thank you. However, if you have not already renewed your membership for 2021, and wish to vote at the Annual General Meeting, please fill out a membership form and forward with your fee to Dixon Hall by August 13, 2021.