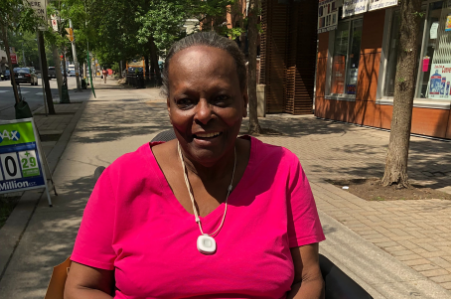 Seniors' Month: Staying Safe, Active and Connected
As we push through the second year of living in a global pandemic, many of us have adapted our routines and schedules to keep mentally and physically active, connected to loved ones, and above all, safe. This Seniors' Month, we celebrate and recognize those three themes – Staying Safe, Active and Connected – and focus on how Dixon Hall, as an agency, can continue to help our seniors' community feel supported; and to ensure they have the resources needed to live a safe and fulfilling life in these new circumstances.
Among the beloved members of our seniors' community, there is Lynette Caton – a long-term client who will be celebrating 16 years of attending the Adult Day Program at Dixon Hall next month. Prior to the pandemic, Lynette was very involved with Dixon Hall Seniors Services, and attended the Adult Day Centre's programs twice weekly. However, that changed when the pandemic hit last spring and she could no longer attend in-person.
Of all the hurdles experienced by the seniors' community, isolation was one of the impacts that affected almost everyone. Staying home in order to stay safe from the virus meant that seniors couldn't perform simple daily activities such as grocery runs, traditional exercise programs, in-person social activities and gatherings – all of which led to significant additional barriers like food insecurity, precarious housing, and loneliness, to name a few. Lynette shared her feelings of loneliness, isolation, and depression during the peak of the pandemic, something we know many of our senior community members experienced.
As a result, we felt it was imperative we step up and offer adapted programming to lessen the barriers and feelings of anxiety for our seniors. We focused on accessible virtual programming and safe home deliveries of meals, activity kits, and technology, to help our seniors feel safe, active and connected.
When we adapted our programs to fit the new policies set by the city, many of our seniors did as well – including Lynette. She adjusted her routine to prioritize attending as many programs as she could, and has consistently participated in the Seniors' Services Zoom Activity Programs provided by The Adult Day Centre at Dixon Hall. She has been able to see her friends on her home computer screen, chat and catch up with them, and enjoy planned activities together. In addition to connecting with friends and familiar faces online, Lynette mentioned the continued connection she's had with staff via phone and online has helped her feel more motivated, connected, and supported during the pandemic.
Lynette is anxious to have things back to normal, but also shared that her ongoing participation in virtual programs has helped. We look forward to welcoming clients like Lynette back to our Adult Day Centre in person, but until then, we will continue to offer creative and interactive virtual programming and meaningful outreach to our seniors' community to help ensure everyone is feeling safe, active and connected.
To learn more about our Adult Programs, and the ways you can support Seniors' Month, visit Dixon Hall Seniors Services.