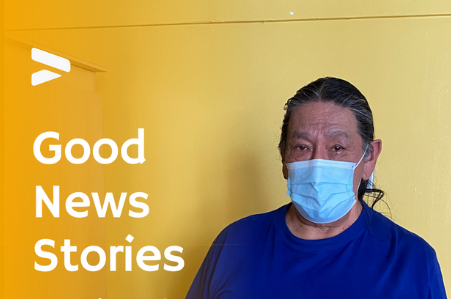 100 People Housed in a Year Like No Other: Transition from Homelessness to Home
Homelessness can happen to almost anyone, at almost any time. The pandemic has laid bare the current housing crisis, increasing−or at least amplifying the visibility of−individuals affected by housing and employment insecurity which forced more people out of their homes and onto the streets; or into alternative living arrangements such as encampments, shelters, and newly adapted shelter hotels.
In collaboration with the City of Toronto, Dixon Hall has worked to ensure a flow of people through supported space – the idea is that people should be moving through shelters towards permanent, affordable housing. Shelters were never intended as a long-term solution to homelessness, and our Housing Services team stresses that in their work. Team members strive to help individuals find stable, affordable housing options, in addition to the services and support systems needed for clients to keep their newly found homes over a long-term. The pandemic has driven home the vital importance of this succession, and the unsustainability of the emergency shelter system in its present form.
Housing is now a human right here in Canada. At Dixon Hall, it is our privilege to support people on their journeys towards housing, and we are thrilled to share we have housed 100 individuals within the first year of the pandemic.
"The pandemic has presented us with innumerable challenges, but also opportunity. The shelter hotels offer a new kind of model for transitional housing – a space where we are building relationships and community. We have embedded services here that we have long dreamed of.  And perhaps most importantly, the pandemic has led to renewed commitment from our staff teams. Like all of the first responders who answered the call, Dixon Hall's Shelter Workers and Housing Workers understood the precariousness of the moment and redoubled their efforts to support those in need. It's been humbling, exhausting, and inspiring to see." – David Reycraft, Director, Housing Services.
We spoke to a number of Dixon Hall clients, who, at different stages of their lives, have accessed a variety of services and programs. They generously shared their journeys and experiences with homelessness, including the hurdles and challenges that come with being homeless, and shed light on their personal struggles, successes and growth. Here's what they had to say.
Thomas Medicine Jr.
Supportive Housing Client, Supports to Daily Living Program
Age: 71
In 2004 Thomas was evicted from his home. In order to keep his job and continue working, Thomas decided to move from his community on reserve, to the downtown core of Toronto, living in a mix of shelters, with some nights spent on the street during the warmer seasons. However, after years of back-and-forth, Thomas finally secured shared housing in 2008 with the help of Dixon Hall.
Working with a Housing Worker, Thomas was able to find a shared living space with his own room. His transition to shared housing, after viewing the unit, took one week. Once in his new space, Thomas began building friendships and new routines in the neighbourhood. His avid interest in learning led him to taking free cooking classes with Dixon Hall: he learned about nutrition and healthy food prep, and even won the participation award; also, frequent visits to the local library kept his mind engaged and skill set growing.
After living in his shared unit for over 10 years, Thomas was asked by his landlord if he wanted his own apartment when a bachelor unit became vacant in the same building. Thomas agreed without hesitancy.
"Private space is important, it gives you [a] sense of independence, you can go and come when you want, freedom, some dignity to do what you please."
With his own space, Thomas also felt safer and more comfortable during the pandemic. "As an older guy with some health issues, I am also much more comfortable living on my own. I worry about getting COVID, so this transition to my own place gave me some added level of comfort and peace."
Since leaving the shelter, Thomas has taken control of his life, with assistance from Dixon Hall staff and services, but also with the drive that comes from having his own space. Looking forward, Thomas is interested in taking some more courses where he can continue his joy and journey of learning. He shares, "My best advice is to think young, it helps as you get older. Never say give up, and stop looking at the negatives. I'm excited to get back into the world again and back to learning and my life."
Georgiana Inglis
Supportive Housing Client, Supports to Daily Living Program
Age: 61
Georgiana moved to Canada in September 2011, with the hope of obtaining a better life. She wanted a safer living situation and to be reunited with her children, who were already living here in Toronto.
We first met Georgiana in 2012, when she was connected with one of Dixon Hall's shelters. Looking for a place to live, with no other options, Georgiana stayed at Heyworth House for almost a year. During her time there, she worked with a Dixon Hall Housing Worker to obtain her immigration status and secure affordable housing, in addition to furniture and welfare. After her transition to housing, Georgiana shared, "My first night sleeping here, I slept really good. I felt good in my own apartment. I was very happy to be able to cook for myself and be alone. I felt like I had finally come home."
Georgiana has been housed for eight years. Her rent fluctuates depending on her income, so she doesn't have the stress of being evicted from the long-standing place she calls home. She likes to keep busy with work, and is described as a great tenant, with only complaints that her food smells too good! Luckily for her neighbours, she loves to share her home cooking at her building's BBQs.
Since her transition into housing, Georgiana became quite independent, busy with working and settling into her new home. However, when she became sick with a brain tumor in 2019, she turned to her Dixon Hall Housing Support Worker for help. Georgiana had good relationships with previous support workers at Dixon Hall, so when faced with this health obstacle, she had a strong foundation of trust, "I love all my workers from Dixon Hall, they work well with me."
Working closely with her housing support worker, Georgiana was able to secure the right kind of support for her to keep her place and get the medical treatment she needed. Georgiana is still living independently at her own apartment, and is optimistic about the future; "There are more good things to come for me."
Jeffery Petit
Shelter Client, Bond Place Hotel Program
Age: 50
Originally from British Columbia, Jeffrey moved to Toronto five years ago. He was drawn to the city for its multiculturism and diversity. He spent the past four winters in the Out of the Cold (OOTC) program, with warmer months spent living outside in ravines and forested areas. However, the constant changes in environment and temperatures really took a toll on Jeffrey's mental and physical well-being, which led him to Dixon Hall Housing Services.
When Jeffrey secured a room at a Dixon Hall shelter hotel, he shared that the biggest difference was the benefit of having his own room, where he could relax and have time to himself without having to worry about the actions or thoughts of others around him, along with the access to a shower, comfortable sleeping arrangements, and healthy, consistent food options.
"I feel much safer here compared to congregate shelters. The staff are good here and the security are really good people. I'm quite happy staying here."
Jeffrey has been working with Dixon Hall Housing Workers to try and secure permanent, affordable housing; however, the competitive housing market has made the search a little difficult with so few affordable single units available. While working towards his transition to housing, Jeffrey has also connected with some people from MDOT, a mental health case management team, to help manage and work on his mental health needs.
"Before I was just surviving, now I have my own home [at the shelter hotel] and I can focus on my dreams and aspirations."
Sheila Nuclar
Shelter Client, Victoria Hotel Program
Age: 35
Meet Sheila, whose family has been living in the Regent Park neighbourhood since the 40s.
When faced with homelessness in her later adult life, Sheila stayed away from traditional shelters, as she said they weren't the right fit for her, or the safest option from what she had seen in past experiences. While looking for housing, Sheila stayed mostly in local encampments in the city, but after a few experiences of having her tent taken away or damaged, she secured a spot at the shelter hotel at 56 Yonge Street, operated by Dixon Hall.
After moving in, Sheila shared that it took about six weeks to fully settle in, but she now feels comfortable at the hotel shelter. She has developed a routine, which has helped her manage her mental health, and notes that the hotel feels like a community, where people help each other out, and generally get along, which isn't always easy with a constant mix of individuals and personalities.
When asked how the shelter hotel contributes to her social determinants of health such as access to healthcare, physical environment, and social supports, Sheila responded that the routine of the hotels is really good. "This program is more like a form of transitional housing, because I could settle into a routine, I was then able to manage my PTSD, anxiety, and depression. You need to have a concrete foundation in order to do anything more for yourself."
Sheila is currently working on securing housing with a Dixon Hall Housing Worker, and hopes to do so before the shelter hotel shuts down. She explains that this is her shot, and is determined to find her own apartment before then.
Graham Nsereko
Shelter Client, Strathcona Hotel Program
Age: 31
Graham came to Canada in 2013 to study Political Science at York University. Due to school strikes, his degree took longer to work towards than planned – resulting in financial constraints due to prolonged tuition fees and living expenses, which were already higher as an international student. Unable to afford his degree any longer, he had to pause his studies, which consequently affected his student Visa and ability to find a job in the city. And then COVID hit.
Without wanting to give up on his education, Graham decided to stay in Canada, but he knew some tough choices would be ahead. Graham came to stay at the George Street Shelter in April 2020 – his first time ever accessing a shelter – and eventually moved into one of Dixon Hall's newly managed hotel shelters. The transition to the hotel shelter, from a traditional shelter, made Graham feel safer, more comfortable, and able to focus on his mental and physical well-being. He shares that with more security, a private room, and in-house support systems, he is now able to focus on his goals – securing affordable housing, moving out of the hotel shelter, and ultimately, returning to his studies.
"The shelter system is here to help", Graham explains, "I didn't know about it before, but it's here to help people. If you're willing and able to ask for help, there are people here who care and will help you. I had my own misconceptions about homelessness before. Now I understand that people are not homeless by choice – I've met people who have had financial difficulties, veterans who are going through PTSD and have found their own ways to try and cope. The shelter system has its flaws, as anything does, but ultimately, it does more good than bad."
There are so many myths and misconceptions around homelessness; generalizations about the individuals experiencing homelessness and how they ended up there; their drive to get better and move on from living on the streets or in shelters. What we should focus on and take into consideration, is that everyone has a different story as to how they ended up without housing, and the journey moving forward will look different for everyone. Our job at Dixon Hall is to help with the process, offer support systems and aids where we can, to transition individuals experiencing homelessness from homeless to home.
To learn more about our Housing Services, and the various programs we offer visit: dixonhall.org/housingservices/ 
__
If you would like more information, please contact Lauren Thiboutot, lauren.thiboutot@dixonhall.org.