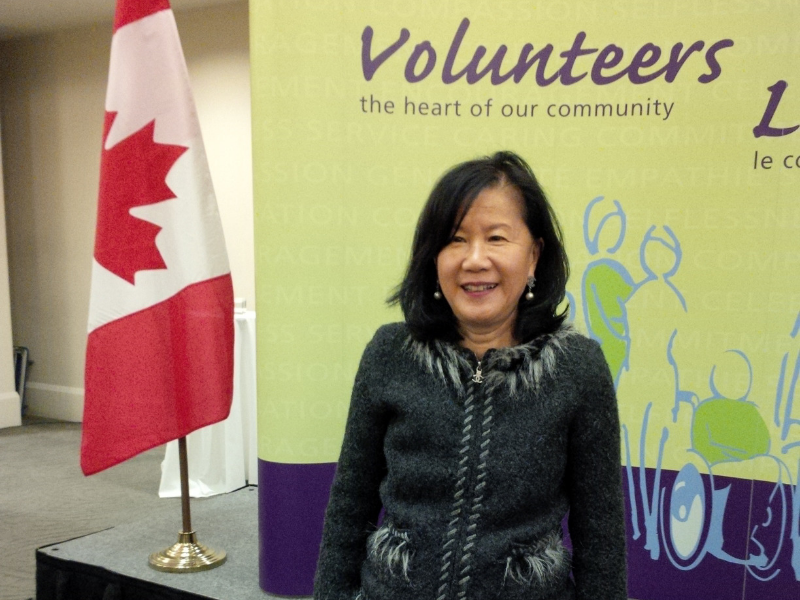 A Case of Serendipity: Q&A with the irreplaceable volunteer Vivien Dzau
Vivien Dzau has been a long-time volunteer with Dixon Hall. Since getting involved with the agency in 2008, Vivien's energy and enthusiasm have been infectious and inspirational to everyone fortunate enough to cross paths with her. She's served a variety of roles throughout her time working with Dixon Hall, including the position of Board Chair. Most recently, she's donated her time as the co vice-chair of our capital campaign for the new Youth Centre in Regent Park. Her tireless campaigning and advocacy for the new youth centre has yielded incredible results – as we continue with our design plans and get ready to break ground this year, we know without doubt this wouldn't be possible without Vivien's help in spreading our vision with strength, clarity, and passion. She was recently honoured by the Ontario Volunteer Service Awards for her 10 years of service.
In celebration of National Volunteer Week, we turned the spotlight on Vivien for a short Q&A to find out what volunteering at Dixon Hall means to her in her own words.
Why/how did you get involved with Dixon Hall as a volunteer?
My involvement with Dixon Hall was serendipitous. Invited by friends, I got to know Dixon Hall through attending several Music School related events. I recall thinking to myself at my third event that, if I were to join another board, this would be it. I had previously volunteered as a Big Sister, and at Covenant House. Helping youth is important to me, as I would like them to have the opportunities that I have been given. I also have a love of music, so what better combination there is than to help youth through music? Within a month, Dixon Hall, through some coincidence of fate, contacted me about a position on its board! Of course, I have since learned that Dixon Hall is made up of much more, and offers many equally important and effective programs.  I am therefore still there as a volunteer, long after my board days are over.
What are some of your favourite memories as a volunteer with the agency?
Some of my favourite memories as a volunteer include a visit to the summer camp for the Music School. What a great environment to bring the kids to, in the country and away from the inner city. It was so encouraging to see how the kids thrived. They were learning music, collaborating with one another to prepare for their performance at the end of camp, but also having fun. One of my fondest memories was watching the kids play baseball – for many, a first, with Bob McKitrick, the Director of the Music School. They saw him as their leader, but also their friend on the field. They were yelling "Bob, Bob …"Another experience that impacted me greatly, at the opposite end of the spectrum, was attending the "Dialogue on Violence". This was an event set up by our At-risk Youth Program immediately after the Toronto Eaton Centre shooting, where the brother of one of our youth was killed. It was done to help our youths to heal, recover, look out for each other and learn from this tragedy. Our youth workers encouraged our youth to lead the dialogue. It was attended by many community leaders who cared, but it was the youths who led the workshops.  They spoke, were engaged, feisty, eloquent, and inspirational. I could not have felt more proud of them and touched by what I heard. I knew that our youth would be all right.
What is the funniest thing that has happened to you as a Dixon Hall volunteer?
I had such a wonderful time going to Niagara-on-the-Lake each year for the last two years with some of our youth. The highlights included going on the Maid of the Mist in Niagara Falls one year, and attending Peter and the Starcatcher at the Shaw Festival (sponsored by one of my friends) another. On our way home from Peter and the Starcatcher, we had ice cream . The kids were singing, imitating the characters in the play, joking, but it was when I got off the bus that I had the most fun. They were all waving goodbye from the window of the school bus, and yelling "tiramisu". This was a word in the play that meant goodbye. Though this may not be the funniest thing that has happened to me, I certainly I had the most fun with them, and still revel in the joy of that moment as I write this.
Vivien is just one of our amazing volunteers who make the work we do at Dixon Hall possible. We are sincerely grateful for the time and energy donated by volunteers and we know the recipients of their service are even more thankful. Of the many pieces that make up our organization, the volunteers are the final piece that complete the picture. Your service changes lives and we couldn't do it without you.