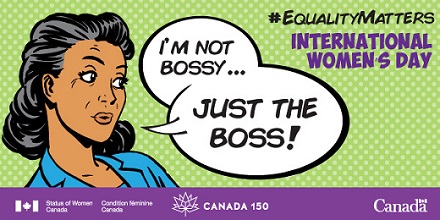 Celebrating Dixon Hall's Strong Women Leaders
Today is International Women's day, a global event which celebrates and recognizes women worldwide for their achievements, while simultaneously measuring progress and setting milestone goals in the quest for gender equality.
Our staff team at Dixon Hall consists of numerous dynamic and hardworking women, who bring incredible talents, skills to the organization, and show amazing dedication and compassion for the clients we serve. Our leadership team is over 50% women, all doing incredible work in the public sector and impacting the lives of clients while strengthening the surrounding community. In celebration of International Women's Day, we wanted to recognize these women, and talk about some of the progress they've seen in the sector as well as barriers we have yet to overcome.
Christine Chow has worked with seniors for over 25 years. She began her career with Mid-Toronto Community Services, working with clients with Alzheimer's on the frontline. Chris has seen the impact of her work firsthand on the clients she's worked with and their families, and the great work the organization does motivates her to continue working with seniors.
What has your experience as a woman in the Social Services sector? What has your career progression been like?
My experience in the social services sector has generally been a positive one. This can be attributed to the fact in the Community Support Services Sector a large percentage in this sector are female. It is interesting to note however that the sector is traditionally been underpaid compared to other sectors. I have been offered different opportunities in my career that has led me to my current position. I worked years in front-line work; working with individuals with Alzheimer Disease and other dementias and their families; providing case management support for those in need. I have stayed with the same organization in different capacities throughout my career as I truly believe in the work and difference the organization makes.
What challenges have you faced in your career unique to being a woman? Unique to being a woman of Asian descent?
When I started my career, I was young, a woman and a visible minority. For the majority of my career until the last few years, I have worked predominately with women. I didn't have to face challenges that I would have if I was in a more male dominant sector. However, in my personal life I had to defend why I went into social services rather than pursue a career in accounting or business.
What are the key issues you see affecting women in your particular line of work? In the workforce and clients you serve?
Issues affecting women in social services sector – young women who want to start a family- because we are in a sector that is underpaid starting a family can be difficult; returning back to work full-time can be difficult especially at the cost of day care in Toronto (in many cases it is not affordable to return back to work and pay for daycare); social services sector employ a large number of women –precarious work can be an issue. In this sector, rarely do we see an increase in funding to keep up with the cost living which means oftentimes salaries are static or a minimal increase are provided. Clients are living longer with increased care needs; often the burden of care falls on women which can be stressful. Some women in our sector are formal caregivers to their clients and informal caregivers to family members.
What does being a woman mean to you and how you self-identify?
Being a woman means being strong and sticking up for what you believe in; not letting anyone write your script for you; working hard and having a voice; I self-identify myself as a hard-working, loyal and competitive Asian woman.
What has been different in your experiences at Dixon Hall on the leadership team compared to other places of work?
This leadership team because it is larger than the one at Mid Toronto Community Services has a lot more varied opinions and perspectives because we come to the table with different backgrounds (different departments) and experiences.
What message or advice would you want to give to young women who are starting their careers today?
Work hard and stand up for what you believe in; bring to the table your own perspective and voice.
In your lifetime, is there any one issue you're passionate about seeing progress on? If so, what is it and why?
I don't think there is a specific cause that I am passionate about but I am  interested in the care seniors receive – in particular those with dementia and their caregivers. It is a disease that has such a powerful impact on the individual with the disease and their family/loved ones as well. With the increasing number of seniors and in particular those with dementia, I am quite interested and intrigued to see if more funding and initiatives will become available to care for the aging population.
What challenges do you see in the seniors community with regard to aging across genders?
As seniors continue to live longer, there are more seniors taking care of seniors. In many of these cases it is the female senior taking on this role. So, the female is caring for a spouse with dementia or frail health while also becoming more frail herself. When you are dealing with seniors from different cultures, sometimes seniors are not seeking assistance or support as in their culture there could be stigma attached to seeking help or admitting that help is needed. If a spouse has dementia, there still is a stigma (sometimes more perceived than actual) attached to this.
What is the gender divide in program participation?
In general, we have more females that receive service from our programs. Many of our female seniors have outlived their spouses. In the Seniors Department approximately 70% of our clients are females. In our supportive housing program and homemaking program about 80% of clients are female and live alone. In the day programs 60% of our clients are female and in meals on wheels and transportation programs  approximately 55% of our clients are female.