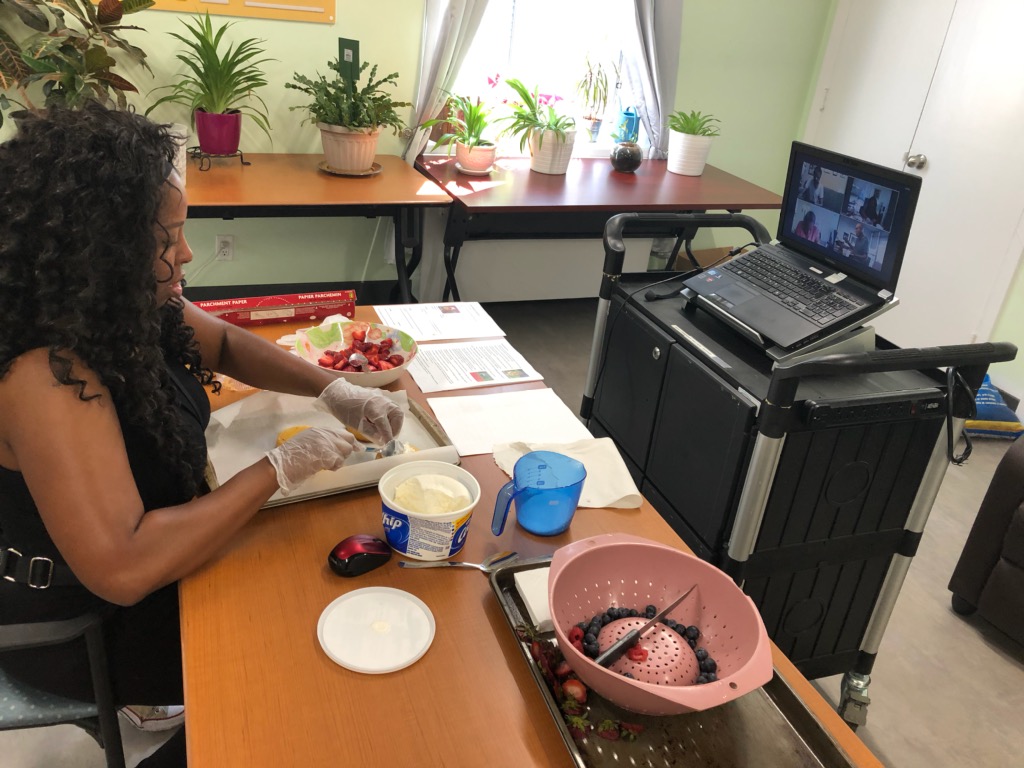 Essential programming made possible by the Scheinberg Relief Fund
This past year brought on new, and significant challenges for Dixon Hall, our clients, staff, volunteers and community. The pandemic demanded extra resources, essential services, creative thinking, and critical programming.
Thanks to the generosity of so many donors we were able to rise to the demands of the pandemic and help those in need in our community. In particular, Dixon Hall received a grant of $200,000 towards our COVID-19 emergency response efforts from the Scheinberg Relief Fund, a $50M philanthropic fund established by businessman and philanthropist Mark Scheinberg, together with his family, in March 2020 to help tackle the direct impact of COVID-19.
With this generous donation, we were able to offer a number of new programs and services focused on tackling food insecurity and seniors' isolation and loneliness during the pandemic, in addition to purchasing the necessary Personal Protective Equipment (PPE) to safely run our in-person programs and services. 
The Scheinberg Relief Fund created an opportunity for us to act quickly and effectively for those in our community who needed a helping hand. Without their help, we might not have been able to offer some of these essential community programs. We're thrilled to share with you the impact made by the Scheinberg Relief Fund's contribution in our community.
Our Seniors Services department purchased 14 tablets with preloaded data for clients to stay connected during the physical shutdown of our space and lockdown in the City. Each recipient received a Dixon Hall-made "How to Manual" to help guide them when using the tablet, along with all the necessary equipment to keep the tablet running, and human connection intact.
In a continued effort to support and stay connected with our seniors' community, our seniors' department also created Activity Kits made possibly by the Scheinberg Relief Fund. These uniquely themed kits are hand-delivered by staff to each client's dwelling, minimizing additional risks to their health, and include a variety of crafts, recipes, and materials to enjoy and discuss "together" on Zoom calls.
Michell Mark, a family member of one of our Adult Day Program (ADP) clients, shared, "having the ADP shift its program to a virtual platform has been one of the brightest points for my mother during lockdown. Having weekly activity kits provided for interactive group activities, and being afforded the opportunity to see some familiar faces every few days, has truly had a big impact on her day-to-day life. These kits and Zoom calls act as a constant source of joy and creative expression, not only for my mother, but for everyone who is willing and able to take part in the ADP during this difficult time."
Our Children & Youth department created the Food for You program: a program that provided meals to families in the downtown east who were experiencing food insecurity. The program operated on two different occasions for three weeks at a time – in April and June of 2020. A total of 44 families with children received two dinners a week, which included a recipe and all the fresh ingredients needed to prepare the meal. This initiative helped feed hungry bellies at a time of great uncertainty for many. The food program provided respite to tired, overwhelmed caregivers, and alleviated stress for families.
In addition to supporting our regular community meal programs, this gift enabled our Housing Services team to create the Dixon Hall Meal Kit program, which should be rolling out later this month and will continue well into 2021. The program acts as a distanced cooking class and nutrition education program. Clients will receive a home-delivered kit with a visual recipe (so there's no barrier in the reading of instructions); all the food items required to produce a recipe chosen by project lead and Food Access Worker, Gregory Lamonica, and a grocery gift card.
This new community meal program focuses on clients who live outside the downtown core, who have very limited access to our food programs largely located in Toronto's downtown east. The kits will be delivered by Dixon Hall employees and volunteers, so clients minimize their risk of exposure, while still maintaining the feeling of being involved in the program and community. This new program will help provide distanced clients with a level of consistency and excitement in their weekly regime, and hopefully results in something they enjoy making, and tasting too.
Thank you to Mark Scheinberg and family for making these new initiatives possible, and for supporting hundreds in our community in a time of dire need. For more information on the Scheinberg Relief Fund visit: http://scheinbergfund.org