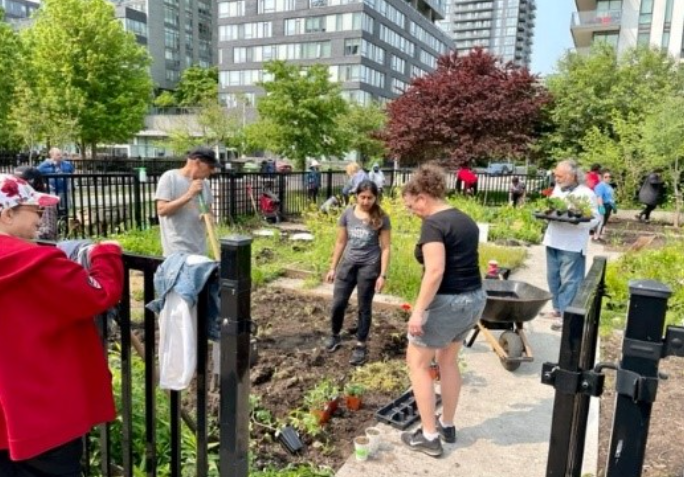 Gardening at Regent Park
The pandemic was a hard time for all, especially the people living in Dixon Hall Rooming House Project accommodations. Residents felt cooped up in their homes with next to nothing to do. In May, 2020, Dixon Hall Community Development Worker Afsana Chowdhury thought to help tenants come out of isolation by starting a gardening program. With social distancing maintained early on, gardening boosted interactions and created connections among the tenants. Joined by the Fred Victor Garden Group and the Christian Resource Centre (CRC), both with a long tradition of supporting community gardening, Dixon Hall continues to be grateful for their valuable partnership.
From May to October, every Tuesday we garden and organize Tai chi exercise classes at Regent Park with rooming house tenants, volunteers, and community members. The first two weeks of this program typically begin with garden clean up and then the planting of tomato, eggplant, squash, green chili, spinach, and herb seedlings. After our one hour of gardening, everyone moves into the next hour of Tai chi class where all enjoy some nice slow movement exercises. Staff and volunteers are always working towards encouraging all our tenants to come out gardening, an outdoor activity that enables them to get a breath of fresh air and enjoy nice summer weather.
Fortunately, since the gardeners are growing their own produce, they have the opportunity to pick their own vegetables and save a little bit of money. The vegetables harvested in the Regent Park Garden are also shared in our annual 'Garden to Table' picnic in October. The picnic consists of salads and sandwiches with all our fresh produce. These gardens create a welcoming environment to form friendships, learn horticulture from different cultures and countries, and grow their own food, which all helps build a stronger community.
The success of the gardening program has attracted many other organizations. such as Good Shepherd, Neighbourhood Group, Green Thumps, Council Fire, to join in, including providing a delicious lunch at 40 Oak St. after gardening, so everyone can enjoy a hot meal! Truly a community affair!
Testimonials
Ding Hung (RHP tenant) "Gardening is a great exercise; it makes me happy and active. As a vegetarian love to plant vegetables"
Nida (Community member) " I love gardening. Enjoying the harvest season and connect with other organizations."
Nasrin (Volunteer) :It's a great socialization through gardening and I make some friends here. I enjoy picking vegetables and it save up money"