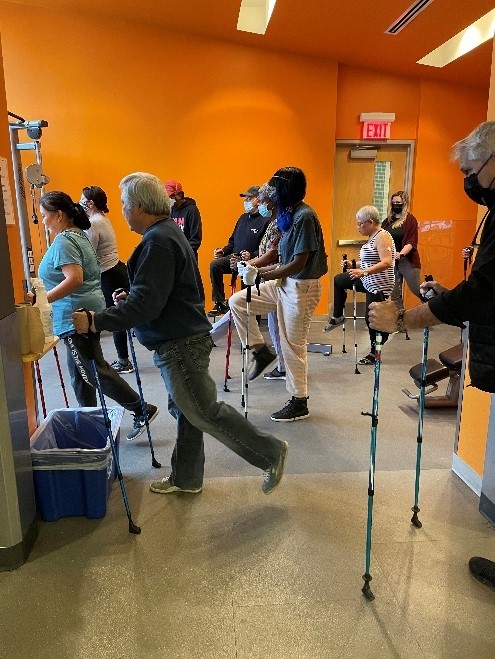 MIRA | Dixon Hall Centre Programming: Strides for Health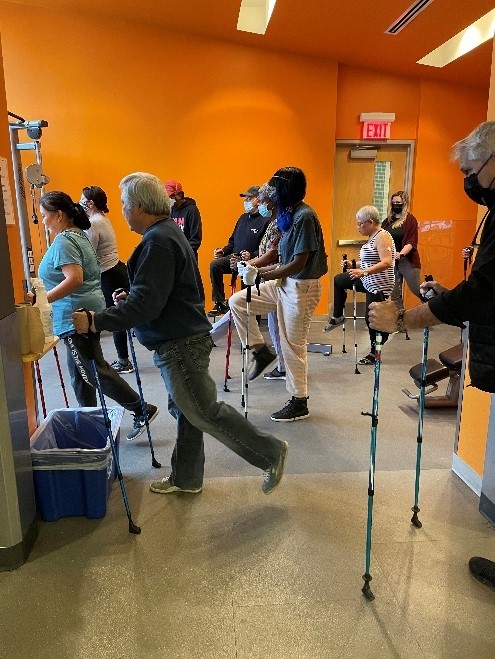 Strides for Health is a new Nordic pole walking and health promotion program for older adults launched on February 2, 2023, at Dixon Hall. The program engages participants through physical activity, social connectedness, and healthy eating.
Lead by Dixon Hall program staff member Linda Fuerth, who is trained in Nordic pole walking instruction, Strides for Health uses evidence-based practices supported by McMaster University's Optimal Aging portal and its academic researchers.
Meeting once a week at the Regent Park Community Center, participants enjoy 45 minutes of pole walking, followed by a presentation of a health-related topic by McMaster or Dixon Hall staff, during which time they also enjoy healthy snacks and learn about healthy eating. In between weekly meetings, participants can take the poles home to do Nordic walking on their own.
What the seniors had to say about Strides for Health:
I am new to pole walking – I am really enjoying it. Meeting new people and being treated to a lovely wholesome meal.
It was not what I expected. I am having so much fun. It promotes community. It has improved my posture and my balance. I love that this program deals with preventative actions.
Everything in this activity is amazing. Hoping it continues and offer other activities. Everyone involved and all participants are very good. Good job!
Praise for Strides for Health has come not only from the participants. Program facilitator Linda Fuerth recently summed up her reaction to the program:
"The energy and enthusiasm of the participants is amazing! I love watching them support each other and make new connections. I am learning so much from the weekly speakers from McMaster and Dixon Hall along with the participants, and I have enjoyed incorporating our new knowledge into our weekly programs." 
To learn more about MIRA | Dixon Hall Centre, click here.