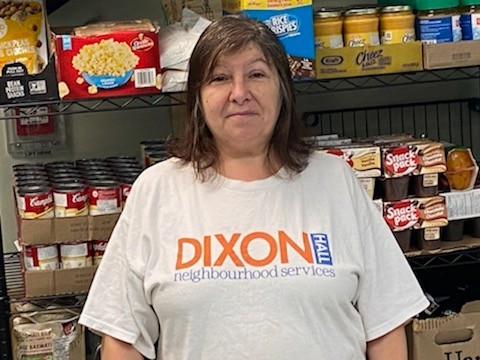 Overcoming Vulnerable Life Experiences to Help Others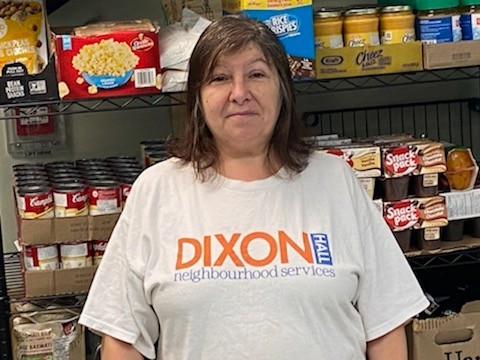 Brenda Lee Rogers' success story is a marvelous journey from adverse 'life experiences' to meaningful volunteering that in 2021 culminated in her employment as part of Dixon Hall's 'Rooming House Project'. Currently, she is a 'Food Access Peer Worker', yet her role is much more than that.
Born in the 1960's, Brenda has grown up in Toronto. In her early years, she experienced homelessness, domestic abuse, compounded by a struggle with substance abuse. Although the odds seemed stacked against her, she discovered that volunteering for her, as she describes it, was a "coping mechanism".
In a recent wide-ranging interview, Brenda added that, "Volunteering provided me with self-worth. I felt good doing and helping other people. Doing this type of community service enabled me to seek help and counselling support."
Successful release from substance abuse through volunteerism was not assured, but thanks to Brenda's love for her children and the purpose and belonging that being a volunteer embodies, Rogers prevailed. Before becoming involved with Dixon Hall, she even started an after-school cooking program for children locally. And she identified with others who were experiencing the ravages of addiction by volunteering to help counsel those afflicted in her community.
In 2019, still not secure financially, Brenda went to Dixon Hall for help putting food on her family's table, and that chance visit led her to volunteer, which in turn resulted in her gaining employment in the 'Rooming House Project'. Her role includes leading tenants' drop-ins, developing programs to engage tenants, thereby helping them emerge from social and physical isolation, all by creating a welcoming environment that focuses on equity and inclusion, as she describes it "directing them to what their needs are".  
Primary responsibilities involve food purchasing and prep for the 'Rooming House Project', as well.
Brenda couldn't be happier, "The best part of my job is making a difference as to how the tenants feel when they come to the drop-in. I see their smiles and hear their happiness and help them enjoy some good food." As for her co-workers at Dixon Hall, "The kind of support I get was 100% from the very beginning. After speaking to any of them, I feel very supported." And she wants to add to their experiences, "I also talk to team members about a fashion show, a Saturday 'hockey night', and a spa day for workers or volunteers." 
Inevitably asked what Dixon Hall does best, Brenda replied, "What Dixon Hall does best is help people to the best of their abilities."
Summing up her experience with Dixon Hall, "I love waking up to my peer job to learn more new things and to serve our clients. I want to express my gratitude, that has escalated beyond words, to Dixon Hall as a peer."
Back at you, Brenda Lee Rogers!