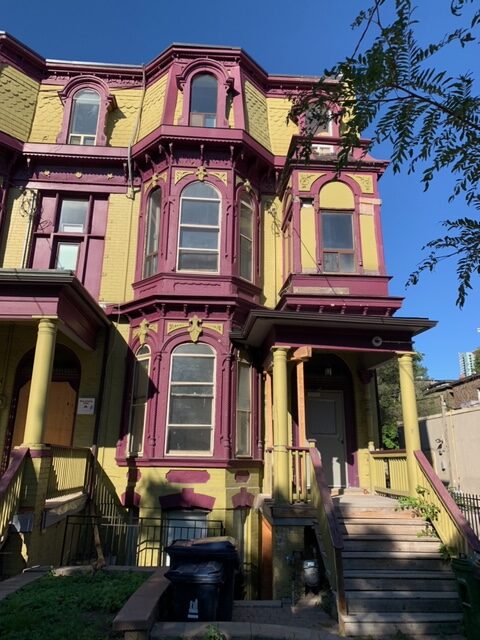 (Re)building Community: Revitalizing Cabbagetown Rooming Houses
Following on the successes of the work done by our Housing Department's Rooming House Project, Dixon Hall is thrilled to announce that we will be renovating and revitalizing several Cabbagetown rooming houses to provide affordable housing options for those in need.
In partnership with the City of Toronto and Toronto Community Housing, this initiative will restore and enhance multiple heritage units in the storied Cabbagetown neighbourhood, with construction beginning in September 2020. Work will begin on 502, 504, 506, and 508 Parliament Street. Our CEO, Mercedes Watson, explains, "Dixon Hall has been a part of the downtown east community since 1929. We are thrilled to be a part of this project that will contribute to the ongoing beautification of the Cabbagetown neighbourhood, and will, vitally, enable affordable supported housing solutions for those in need."
Rooming houses have historically been an affordable option for those transitioning out of homelessness and into housing. David Reycraft, Housing Services Director, notes that "the opportunity to make meaningful, thoughtful choices in the planning, design, and operation of these spaces will be transformative. In partnership with our housing clients, we will make collaborative, informed design choices; and our position as a multi-service agency means that we are well-equipped to provide holistic, wrap-around supports to individuals and communities returning to these spaces."
Work on the units is expected to be complete by Spring 2021. A virtual community consultation process is being planned. Director of Real Estate for Dixon Hall, Eric Philip, notes, "We are proud to be a member of the Cabbagetown community, and we look forward to doing work that is consistent with the high standards of beautification and preservation we know our neighbours will and should expect."
Continue to check back on our website for updates on this exciting project.
For the formal press release announcing the project, click here.
For inquiries on the project, email: roominghouses@dixonhall.org